Introduction: UK house price growth slows in June
Good morning, and welcome to our rolling coverage of business, the world economy and the financial markets.
UK house prices growth slowed this month as the weakening economy, the cost of living squeeze, and rising interest rates cooled the market.
Lender Nationwide reports that prices rose by 0.3% this month, a notable slowdown on May's 0.9% house price inflation — but still the 11th monthly rise in a row.
This pulled the annual UK house price growth to 10.7% in June, from 11.2% in May, with most regions seeing a "slight slowing" in annual growth over the last quarter.
Nationwide reports that:
The price of a typical UK home climbed to a new record high of £271,613, with average prices up over £26,000 in the past year.
South West overtook Wales as strongest performing region, while London remained weakest
South West also strongest performing region through the pandemic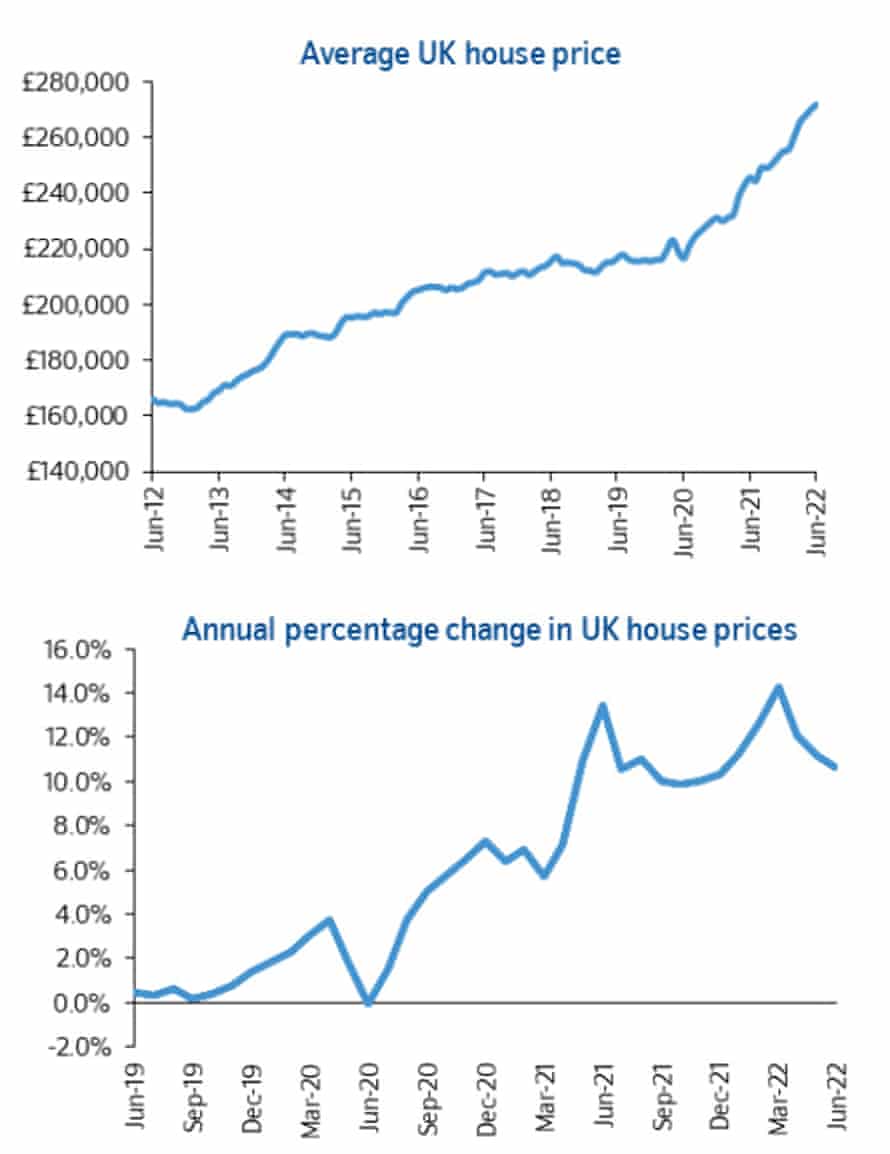 Robert Gardner, Nationwide's chief economist, says the market is expected to slow further — as interest rates continue to rise:
"There are tentative signs of a slowdown, with the number of mortgages approved for house purchases falling back towards pre-pandemic levels in April and surveyors reporting some softening in new buyer enquiries.

Nevertheless, the housing market has retained a surprising amount of momentum given the mounting pressure on household budgets from high inflation, which has already driven consumer confidence to a record low.
Gardner says that the current strength of the labour market, and low availability of houses, have kept 'upward pressure on house prices'.
But…..
"The market is expected to slow further as pressure on household finances intensifies in the coming quarters, with inflation expected to reach double digits towards the end of the year.

Moreover, the Bank of England is widely expected to raise interest rates further, which will also exert a cooling impact on the market if this feeds through to mortgage rates.
Also coming up today
The OPEC group of oil producers holds a regular meeting to agree production targets. A big change isn't expected this month, despite pressure from the West to increase output.
At least five OPEC+ delegates said this week's meeting will focus on confirming August output policies and would not discuss September, says Reuters.
A flurry of data will give us a new insight into the global economy, including French inflation, eurozone unemployment, US jobless claims and the PCE measure of US inflation.
Trade secretary Anne-Marie Trevelyan and shadow chancellor Rachel Reeves are both appearing at the British Chambers of Commerce's annual conference, along with business leaders and a 'senior cabinet minister).
Christine Lagarde will close the European Central Bank's Forum in Sintra, where Bank of England governor Andrew Bailey yesterday warned that Britain will suffer a more severe dose of inflation than other major economies during the current energy crisis.
The agenda
7am BST: UK Q1 GDP report (second estimate)
7am BST: Nationwide house price index for June
7.45am BST: French inflation report for June
8.30am BST: Swedish Riksbank interest rate decision
10am BST: Eurozone unemployment report for May
1.30pm BST: US weekly jobless claims
1.30pm BST: US PCE measure of inflation for May
2.30pm BST: ECB president Christine Lagarde speech.
Worryingly, UK business investment has continued to fall.
Business investment dropped by 0.6% in January-March, today's UK GDP report shows, which takes it 9.2% below its pre-coronavirus level.
There was continued weakness in capital expenditure on transport equipment during the quarter, due to supply chain constraints, particularly the continued semi-conductor shortage.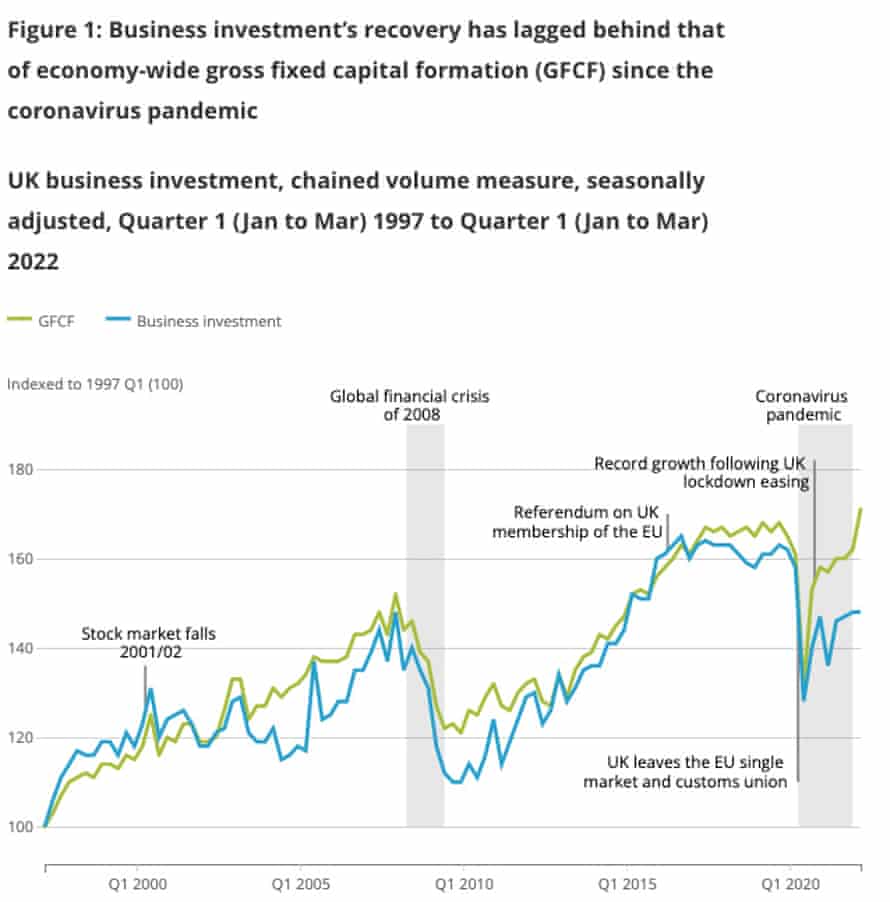 This latest drop in UK household real incomes leaves people less protected for the economic problems ahead, with the risk of a recession.
Paul Dales of Capital Economics explains:
The final Q1 GDP data perhaps leave households looking a bit more vulnerable to the big fall in real incomes that's going to hit in Q2 and Q3.

Although GDP and consumer spending won't fall as far as real incomes, it's pretty clear the economy is going to be very weak for a while and a recession is a real risk.
Real incomes have now declined modestly in each of the last four quarters, Dales adds, with more pain ahead:
This meant that the saving rate stayed at 6.8% rather than rise to 7.2% as we had forecast.

That leaves households with a slightly smaller buffer than we expected to cope with the much bigger falls in real incomes that are going to hit in Q2 and Q3 due to the surge in inflation. In 2022 as a whole, we think real incomes will decline by around 2.0%.
UK household incomes suffer longest run of declines on record
UK households suffered another fall in real incomes in the first three months of this year, as the cost of living crisis worsened.
Inflation outpaced earnings again in January-March, for the fourth quarter in a row, as UK households endured the longest drop in real income on record.
Real Household Disposable Income fell by 0.2% in the January-March quarter, the latest GDP data from the Office for National Statistics shows.
That's the fourth consecutive quarter of real negative growth in disposable income — the worst run since records began in 1955, according to Bloomberg.
Although nominal household income grew by 1.5% in Q1, it was offset by quarterly household inflation of 1.7%, the ONS reports.
The ONS also confirmed that the UK economy grew by 0.8% in January-March, as first estimated.
Darren Morgan, director of economic statistics at the ONS, said:
"Our latest estimate for economic growth in the first quarter is unrevised as a whole, showing the UK continued to recover from the pandemic.

"Both household incomes and spending rose in cash terms in the first quarter, leaving the rate of saving unchanged.

"However, once taking account of inflation, incomes fell again, for the fourth consecutive quarter."
Guy Harrington, CEO of Glenhawk (which provides bridging financing) says it's 'absolute madness' to think house prices will keep rising in the current climate.
He warns:
"Another month of slowing growth is just a precursor to the sharp correction about to torpedo the UK housing market, caused by a perfect storm of record inflation, geo-political turmoil, rising rates and a once-in-a-generation cost of living crisis.

It's absolute madness to think house prices will keep on rising. As caution grips the market, the outlook for 2023 looks increasingly ominous."
The current double-digit annual house price growth doesn't seem sustainable in the long run, given economic pressures.
So says Myron Jobson, senior personal finance analyst at interactive investor:
Property prices have gone up faster than wages, creating an affordability squeeze, while mortgage rates have risen to levels we haven't seen in a while. These factors, as well as the prospect of higher interest rates to rein in runaway inflation, are likely to go some way towards taming frothy housing prices.

"The housing market has already begun to show signs of cooling. Mortgage activity has started to come down, falling back towards pre-pandemic levels in April, and new buyer enquiries has waned – which is indicative of the inflationary pressures currently exerted on household budgets.
But a slowdown is more likely than a property market crash, Jobson predicts, given the imbalance between supply and demand.
House price growth continues to "drift downward" in response to mounting pressures in the broader economy, says Nicky Stevenson, managing director of national estate agent group Fine & Country:
"Increased borrowing costs have come at a time when disposable incomes are already shrinking and the UK is edging closer to recession.

"These pressures are bound to stretch affordability in the months ahead with inflation still to peak and more aggressive monetary tightening now being signalled by the Bank of England.

"A tight labour market and the ongoing supply crunch will continue to mitigate this cooling effect with overall gains remaining robust by historical standards."
London remains the weakest performing region for house price growth since the start of the pandemic.
The South West saw the largest increase, as people looked for larger, more rural properties in the move to home-working.
Nationwide reports that:
Since 2020 Q1, average house prices in the capital have increased by 14.9%, whilst all other regions, except the Outer Metropolitan, have seen at least a 20% uplift.

"The South West was also the strongest region over this period, with a 27.7% increase, after taking account of seasonal effects, followed by Wales, where average prices rose 26.2%. Meanwhile in the North West, prices were up 25.8%.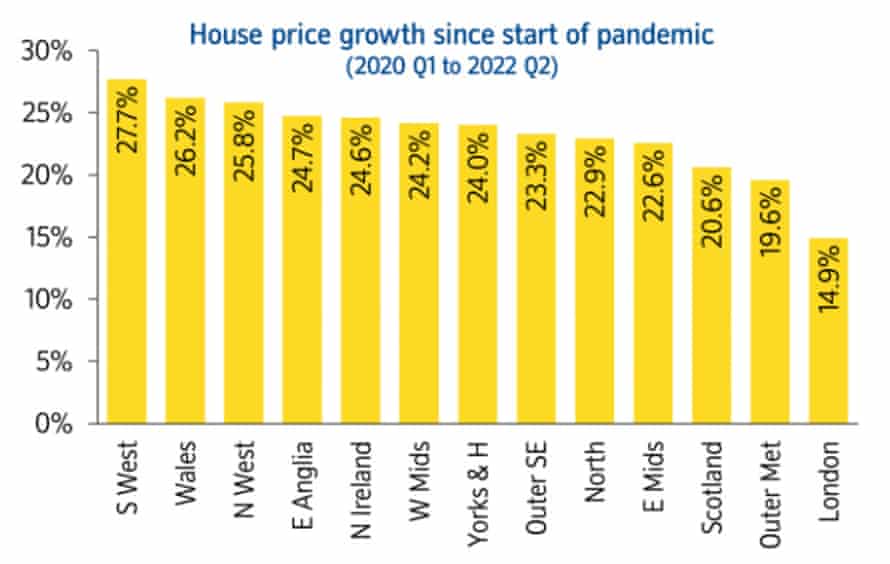 House prices across the South West jumped 14.7% year-on-year in the last quarter, as it overtook Wales as the strongest performing region in Q2
It was followed by East Anglia, where annual price growth remained at 14.2%, Nationwide reports.
Wales saw a slowing in annual price growth to 13.4%, from 15.3% in the first quarter.
Price growth in Northern Ireland was similar to last quarter at 11.0%. Meanwhile, Scotland saw a 9.5% year-on-year rise in house prices.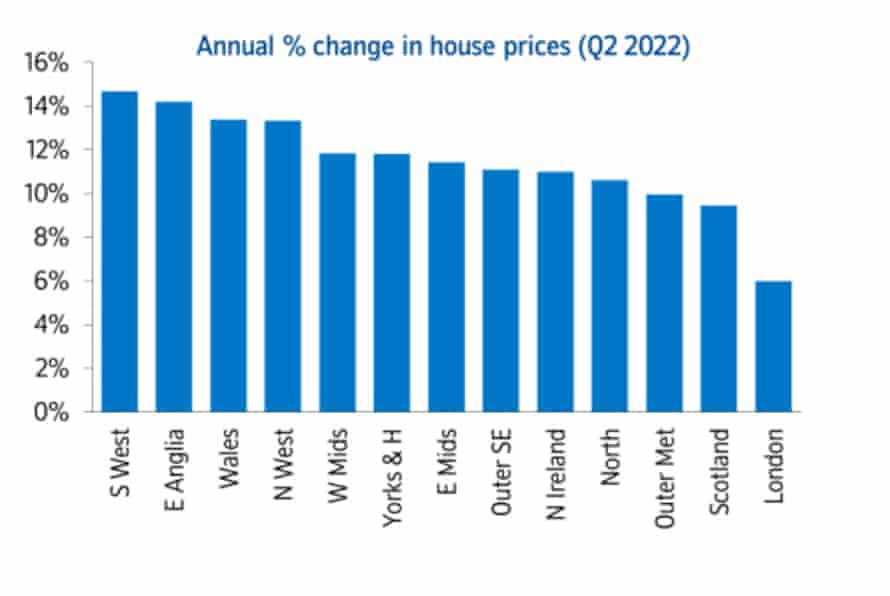 Introduction: UK house price growth slows in June
Good morning, and welcome to our rolling coverage of business, the world economy and the financial markets.
UK house prices growth slowed this month…


Read More:UK house price growth slows, as household incomes are squeezed – business live | Business

2022-06-30 07:21:12